16 East Main Street Washingtonville, NY 10992
(845) 614 - 0904
The Gnomes Are Coming!
August 2021
Starting August 18, 2021, join us in welcoming the Gnomes....details coming soon! #wherearethegnomes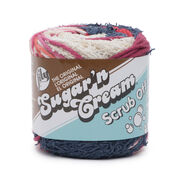 Product of the Month
August 2021
Tackle tough kitchen messes and more with the new Lily Sugar'n Cream Scrub Off! With alternating sections of scouring textures and Lily's classic cotton, this super absorbent yarn is the best of both worlds in kitchen cleaning.