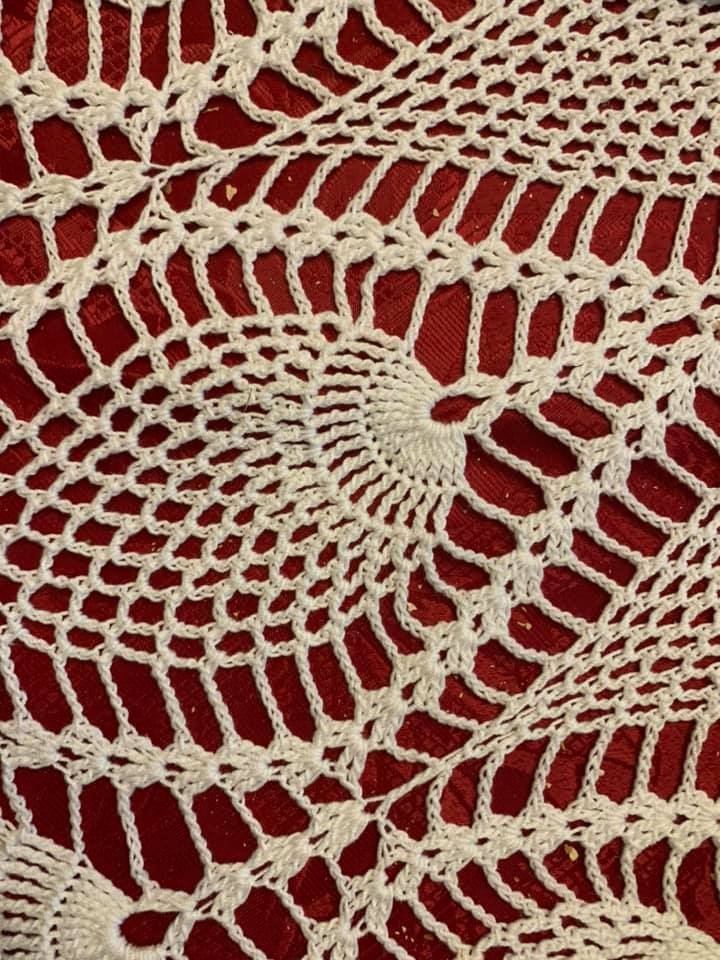 March 2020

By Alma D. Gonzalez-Santiago
Although a clear origin of crochet is difficult to pin down, most historians agree that crochet in its current form evolved in Europe in the mid-1800s. Of note, is crochet's impact on the people of Ireland.
Irish crochet was developed in Ireland during the potato famine (1845 - 1850) and it quite literally saved their lives, allowing most Irish families to work and make money without relying on their absent crops. The Irish would crochet between chores and their other work, working either outdoors in the sunlight or by the light of a candle or oil lamp at night.
The intricate and delicate fabric that Irish crochet produced was sought after abroad, so schools were formed to teach the skill and teachers were sent all over Ireland to train others. Families that survived the famine were able to save their money from crochet and work to move abroad and start a new life, bringing with them their Irish crochet skills. This style of crochet soon made its way into the crafting repertoire of American women, who couldn't help but be influenced by the designs.
In Ireland, it had evolved into a cottage industry, where women would work a particular signature motif in quantity and sell the motifs to the schools or stores where other lace workers would join them together into larger pieces. The Irish crochet motifs themselves were often also used as currency for trade at markets for food and other necessities. Women soon became the primary wage earners for their households, gathering in large groups to make elaborate crocheted lace pieces that supported many families.
When Queen Victoria promoted the lace at an arts exposition in London, the fashion took off. Soon the demand became so high that professional dealers took the place of the charities and the business of lace making moved from a resourceful survival skill into an industry. Crochet lace patterns began to be written and distributed. Irish girls would travel to other parts of the world and teach the lace crochet patterns and techniques to women in areas in desperate need of income.
Sources:

https://www.interweave.com/…/irish-crochet-clones-lace-gui…/

https://www.mooglyblog.com/irish-crochet-lace-10-free-patt…/